Wednesday Morning Discipleship Small Group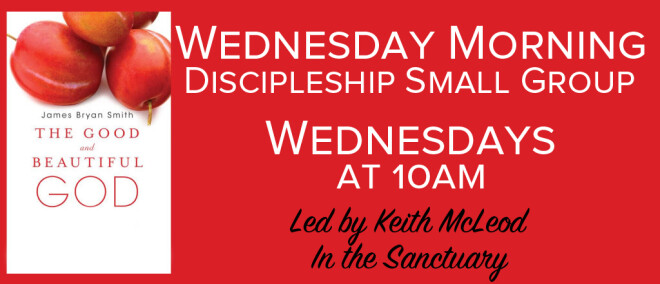 Every Wednesday, 10:00 AM - 11:00 AM
Wednesday Morning Discipleship Small Group
Wednesdays at 10am in Sanctuary
Keith McLeod is leading a 9 week small group discipleship group that started Wednesday, July 1 and will be at 10 am each week. These meetings will last one hour and we are meeting in the Sanctuary, which is the largest space in our facility. With small numbers, we can easily "social distance" and we will also be required to wear face masks while inside the building. Please bring your own.
The text we are using for this study is entitled, "The Good and Beautiful God: Falling in Love with The God Jesus Knows", written by James Bryan Smith. You can purchase this book at www.christianbook.com and the prices are as follows…
Hardcover Book 2009 Edition (Which I am using) - 13.99
Hardcover Book 2019 Edition - 21.99
eBook - 14.99
Unabridged MP3 (audiobook) - 14.98
You can go online to review this selection and get a better look at the course of study.
Keith is also supplementing the study time with short video excerpts of a course taught by Chris Hall, entitled "Foundations of Christian Spirituality." Chris is the current president of Renovaré, a leading resource in spiritual formation. As the website states, "Renovaré provides practical resources for cultivating a life—the with-God life —that makes us like Jesus from the inside out."
We hope you can attend this summer series, where "training over trying" is our motto as we seek to come closer to the good and beautiful God that created a kingdom that is totally safe for us to move and breathe in.
Please contact Rosanna at to register for this study and purchase the reading material on your own. We will all need to be prepared to discuss Chapter One: "What Are You Seeking?" and be working in the first spiritual discipline, Soul Training: Sleep at the first meeting on July 1.
Looking forward to growing together in Christ,