Women's Ministry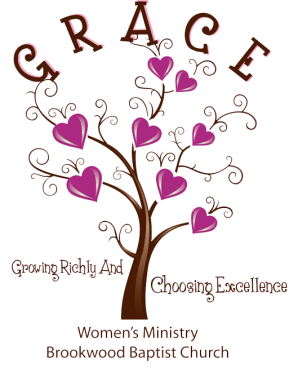 GRACE: Growing Richly and Choosing Excellence
…that is, that you and I may be mutually encouraged by each other's faith. Romans 1:12
The GRACE Ministry encourages women to GROW RICHLY through spiritual formation, seeking always to be in communion with Jesus Christ. As we grow our relationship with Christ and each other, then we will experience the peace, patience, and gratitude, allowing us to bless others as we are blessed.
We also seek to CHOOSE EXCELLENCE in all that we do as daughters, wives, mothers, single parents, grandmothers…encouraging each other in faith and being encouraged by those around us.
The goal of our ministry is to bless the women of Brookwood and, through them, the women of our communities and beyond.
Events:
Mom's Inc Meeting (Mothers of all ages in various stages of life will gather for Christ-centered fellowship and connection.) - Every 3rd Wednesday of each month 5:45pm-6:45pm in Room C-260