Tuesday Morning Small Group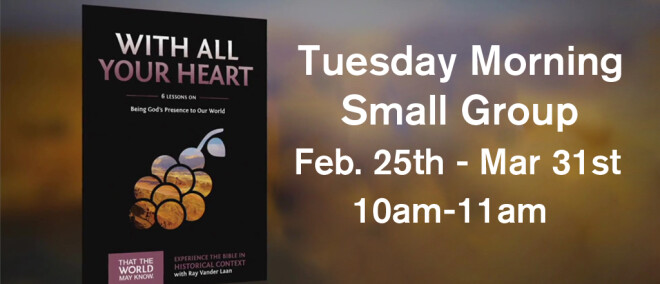 Every Tuesday, from 02/25/2020 to 03/31/2020, 10:00 AM - 11:30 AM
Tuesday Morning Small led by Keith McLeod
(Feb. 25- March 31)
10:00 am-11:00 am
With All Your Heart: Being God's Presence to Our World
A video-based study filmed on location in Israel and taught by Ray Vander Laan and facilitated by Keith McLeod

This study is open to all adults and deals specifically with spiritual formation and developing a lifestyle of discipleship. Using biblically significant sites, Vander Laan brings the Bible to life and interprets the scriptures using a great knowledge of history, language and cultural understanding. Study guides are available for those who like. Call Rosanna and let us know you are coming. Hope to see you there as we journey together!