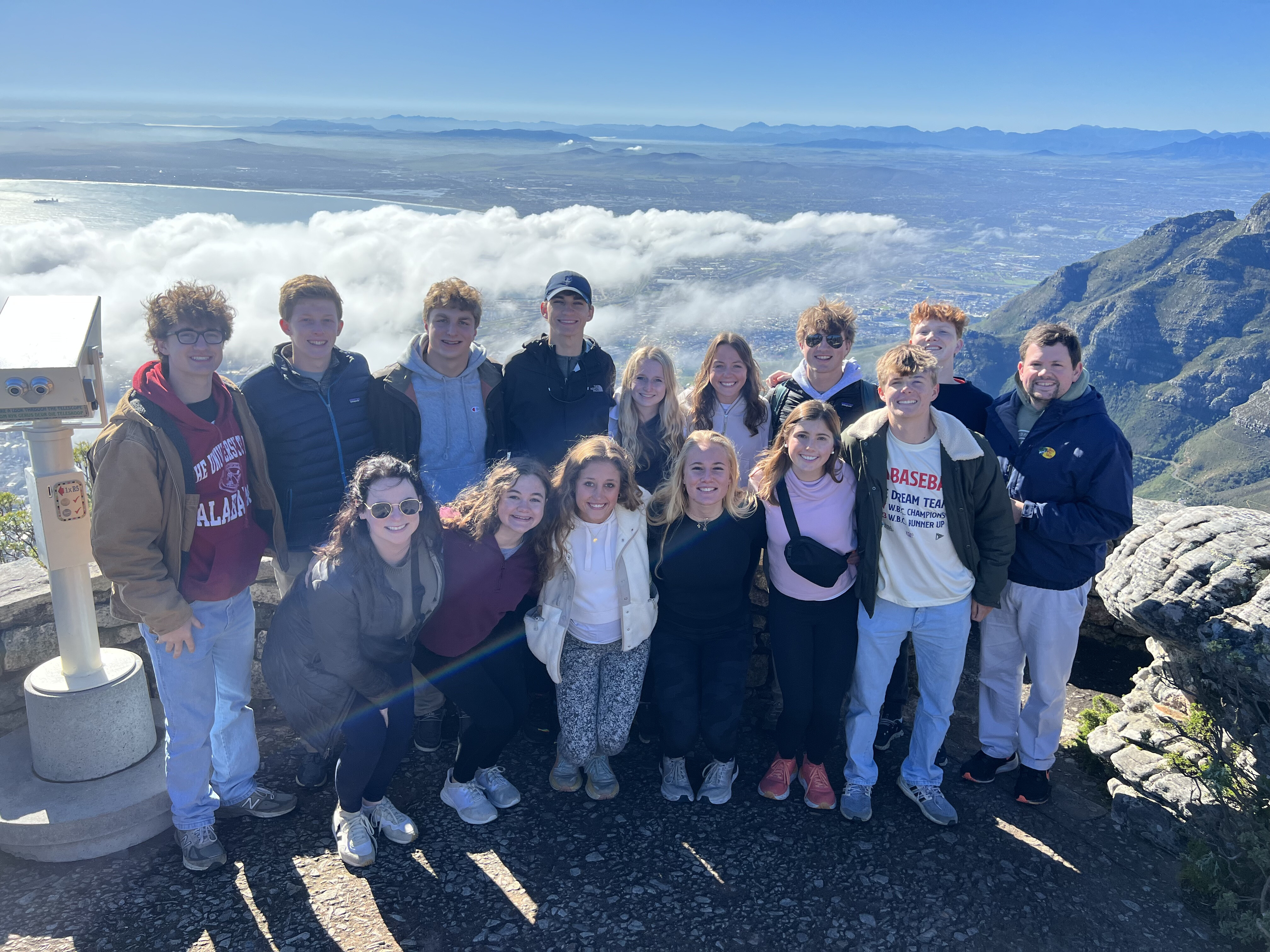 Good morning brookwood!!
this morning we were blessed to have more brookwood family and mountain brook community church members join us for our family style breakfast! Oripa blessed us with eggs, bacon, and mushrooms. thankfully everyone was much more lively at breakfast due to our extra hour and a half of sleep!

After breakfast everyone headed to get ready for the day. at 9:00 (the actual time of departure) the girls got yelled at multiple times to come downstairs, people kept forgetting things and running back to there room, and we ended up leaving at 9:15/9:20 (perfect brookwood and south africa timing) to head to table mountain!

As our driver Amock let us know, table mountain was discovered in 1503 and it is 1085 meters high! to get to the top of the mountain we took a cable car that held about 40 people and rotated so that we got a 360 view. once at the top, we took trails to different edges to see all the views (don't worry we had a legit photoshoot at every spot so you will see plenty of pictures)!! we were able to enjoy coffee, shopping (all the girls got matching sweatshirts), and amazing scenery while on table mountain! Next we headed to Hout Bay for lunch :))

At hout bay we ate at a restaurant called Mariners Wharf. They had a variety of seafood- most people ended up getting fish and chips! Vaughn entertained us by telling us a joke that lasted 20 min, as he was silent for 19 of those. after lunch we walked around and saw a huge seal just laying on the concrete in which Annie was very upset over.
We then drove about 5 minutes to Bay Harbor market. it was an inside market where vendors were set up throughout. many of us got souvenirs there for ourselves and others (some of who might be reading this blog)

On our way home we took chapmans peak drive (a scenic route that takes you by chapmans peak). we stopped and took many pictures along the way.

when we got home, we said goodbye to Amock (our driver). he is taking an exam to become a tour guide on Monday so today was his last day to us. i know this is really hard to believe but it made millie cry… shocker.
since tonight was our last night in the team house some of us headed to watch the sunset on the beach while others hiked a mountain near our house.

however, the boys who went to hike were late to dinner (as always) and got threatened that they would have to wash the dishes. for dinner we had chicken, rice with vegetables, and a salad. for dessert, which everyone screams for, ice cream (blueberry cheesecake flavour)!

After dinner we did our daily debrief: what stuck out, where we saw god, and any questions. Tonight, since it's our last night just our group, we also added something special. we went around in a circle and if you felt led you shared how you saw god in a specific person. words of encouragement are always needed!!
We ended the night with a 4 hour power nap just in time for our sunrise hike!
-Ellie